Refugees at our Door
Sonia Nazario traveled to Mexico in September 2015 to investigate reports that Mexico, thanks to U.S. funding, was conducting a ferocious crackdown on refugees fleeing violence in Central America. She wrote an article that was published in the Oct. 11, 2015 New York Times, titled "Refugees at our Door." As Nazario put it, "the United States has outsourced a refugee problem to Mexico that is similar to the refugee crisis now roiling Europe."
She started a hashtag: #CentralAmericanLivesMatter
She created a Facebook page with this name: Central American Lives Matter
Olga Sanchez Martinez has created a shelter for these refugees, and Sonia is urging people to support Olga financially, if they are able. To make a donation to the shelter, please visit the How to Help page for more details.
Follow Sonia on Twitter to get constant updates on this topic: @SLNazario.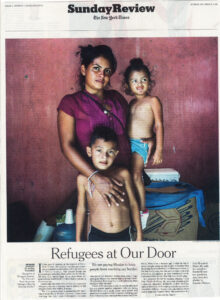 Please write to your congressional leaders (Search for them here). Tell them why you feel this is a misuse of U.S. government funds. Suggest what they should be doing instead.
Use sample text below or download this file:
Dear CONGRESSIONAL LEADER'S NAME,
I read Sonia Nazario's article in the Oct. 11, 2015 New York Times titled "Refugees at our door." I am outraged that the U.S. government is paying Mexico to conduct a ferocious crackdown on refugees fleeing violence in Central America. As Nazario put it, "the United States has outsourced a refugee problem to Mexico that is similar to the refugee crisis now roiling Europe."
I am asking you, as my representative in Washington, to do the following:
We should stop paying Mexico tens of millions of dollars to intercept and deport these refugees before they reach our border. Some congressional leaders have proposed spending $90 million to do more of this in 2016; we should instead spend that money to help these refugees.
We should help Mexico pay for places for migrants to be held that are humane while their refugee claims are evaluated.
The United States should develop a system for these refugees, much like Europe is now doing for Syrians, to equitably allocate people who are fleeing harm throughout this continent — including sending them to safer countries in Latin America, to Canada and to the United States.
We should increase the number of refugees we allow to pre-9/11 levels — 130,000, from the current 70,000 — to allow more of these families to have a safe harbor here in the U.S.
We should approve a proposed tripling aid, now before Congress, to the northern triangle Central American countries (El Salvador, Honduras, Guatemala) to help reduce the causes of the violence pushing these families out.
Please stand up for the refugees at our door. Don't just stand by.
Sincerely,
Your name, address, telephone number
NOTE: Please use your personal information because lawmakers listen to constituents.